WBDA Presents Anasma & Beatbox Guitar "Collaboration and Creation: The Edge of Music and Dance"
Join us for a weekend of dance and music as World Belly Dance Alliance presents the talented
Anasma, Pete List and Rob Mastrianni of Beatbox Guitar in "Collaboration and Creation: The Edge of Music and Dance"!
The weekend will consist of workshops featuring both Anasma and Beatbox Guitar, a lunch discussion lecture, and Saturday night show followed by a hafla after party!
All workshops and the lunch discussion lecture will be held at Pera Dance and Event Studio.
The Saturday night show and hafla will be hosted by Steve's Live Music in Sandy Springs, GA. Atlanta band favorite, Aviva and the Flying Penguins will kick off the evening followed by headliners, Anasma and Beatbox Guitar, who will be sharing the stage with some local dance favorites you know and love! You'll want to stick around for the hafla after party following the show! Pete and Rob will be providing the music, so you'll want to come ready to dance and have a good time!
Why would you want to be anywhere else??? Enjoy a great show and come hang with us and say hi to Anasma, Rob, and Pete!
 REGISTRATION
Click the button to take advantage of early registration pricing for this not-to-be missed weekend!
***Payment plans available, please contact Jenny for more information: jenny@worldbellydancealliance.com
______________________________________________________________________________________________________________________________

SCHEDULE OF EVENTS
Saturday: March 9, 2013
10:00 am – 12:00 pm
Musicality for Dancers: When Beatboxing Meets Dance" (Anasma/BBG)
All levels (with minimum one year of dance)
All dance backgrounds welcome
This workshop is designed to develop dancer's musicality through a fun and innovative approach based on sound making, vocalisations, basics of beatboxing, and breathwork in combination with movement. Pete will teach basic sound making techniques and rhythms and Anasma will apply breatwork to movement and teach drills and combos using the vocabulary of her signature Hip Hop Bellydance Liquid Fusion style and Modern dance concepts, and they will synthesize these elements into simultaneous sound and movement exercises.

12:00 pm – 1:00 pm
Lunch break

1:00 pm – 3:00 pm
"Becoming Your 'Ideal You' on Stage" (Anasma)
All levels
Working with self acceptance, ideals, perfection and imperfections, use your dance as a fulfilling artistic expression. It is a way to embrace who you are and a way to realize who you dream to be. On both levels, as a person and as a dancer: What defines your ideal? What do you love in yourself already? What would you love to improve?
Working through different archetypes and personality incarnations, visualization exercises, and by physicalizing sensations, we will plant a seed together and start watering it with love and patience in order to let it grow after the workshop. Giving your mind  the "ok", starting by saying a big "YES", believing you can achieve your goal is the very first step towards success. "Dreams come true when you believe the world is yours again." Once we have created a goal, we will find ways to create methods to get there.

Saturday Night Show and Hafla After Party: Doors open at 7:30 pm. Steve's Live Music offers a full bar, an array of tapas plates in a smoke-free environment.
Sunday: March 10, 2013
10:00 am – 12:00 pm
"The End Again: Oriental, Modern Dance, and Flamenco Flavored Fan Veil Choreography to LIVE MUSIC" (Anasma/BBG)
All levels (with minimum one year of dance), all dance backgrounds welcome
Beatbox Guitar will treat us by playing live "The End Again" and Anasma will share a fan veil choreography borrowing vocabulary from Watery Oriental dance, Airy Modern dance, Theater and inspirations from the fire of Flamenco. The creation will involve a lot of extensions, some intricate footwork, fun arm work with 3D figure eights, along with some jumps and lots of creative imagery. Bring a pair of fan veils (approx 1.5 m long is recommended).

12:00 pm – 1:00 pm
Lunch Discussion Lecture (Anasma/BBG)
Free to workshop attendees, $10.00 for non-registered general public

1:15 pm – 3:15 pm
"Choreography and Structured Improvisation Tool Box" (Anasma)
All levels
Do you sometimes get frustrated because you do not know where to start when you are creating a new choreography? Are you afraid of improvisation or choreography? Learn some tools to help yourself get over the fright of choreographing and the fright of improvising.
Drawing from Modern dance Composition and Choreography principles (Theme and Variation, Space, Time and Design, Repetition and Evolution, Transposition, Musicality …) discover some structuring tools for eternal creativity. These techniques will enable you to structure your dance. You will learn better as students and teach more effectively if you are teachers.
To learn more about our honored guests and why you don't want to miss out on this opportunity to train with them, please visit:
Anasma: http://anasmadance.com/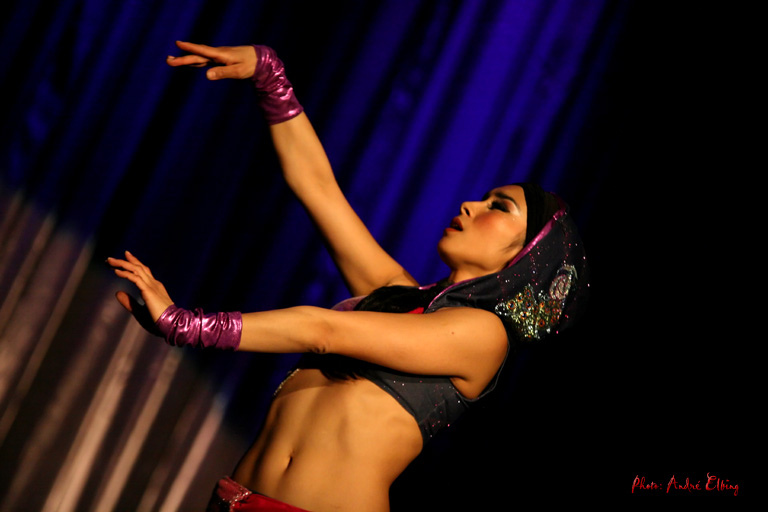 Beatbox Guitar: http://www.beatboxguitar.com/